PRESS RELEASE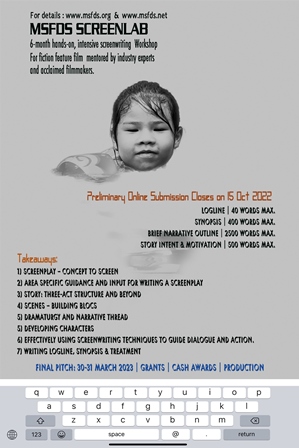 Continuing its effort to promote Manipuri Cinema, Manipur State Film Development Society announces its 6-month screenwriting Lab, to be mentored by acclaimed screenwriters of the Film Industry. The incubation- mentorship lab is designed as a hand-on crash course in screenplay writing for feature length fiction films. Those screenwriters who are interested in participating in the Lab have to first submit a logline, synopsis, narrative outline or treatment and story intent & motivation to book a slot in the first of a kind lab for screenwriters in Manipur. The preliminary online submission to the limited seat lab closes on 15 October 2022 and the final pitch of the incubated screenplay projects is to be held on 31 March with attractive cash awards, grants and commitments for production. Details are available on MSFDS websites, namely www.msfds.org and www.msfds.net .
Click here for Preliminary online submission
The Lab which is in a hybrid format, comprises a combination of online and offline interactions and mentorship. The main takeaway of the lab are : Writing screenplay from concept to screen, area specific guidance and input while writing screenplay, understanding the 3-act structure story and beyond, scripting scenes, dramaturgy and narrative thread, developing characters, screenwriting techniques to guide dialogue and action and writing effective logline, synopsis and treatment.
MSFDS urges seasoned as well as aspiring screenwriters of Manipuri fiction feature films to avail the opportunity of the incubation and mentorship programme organized exclusively for the writers for the cause of good Manipuri cinema.
Towards the promotion of good cinema in Manipur, MSFDS has undertaken several skill development training program between 2021-2022 like the film archiving workshop,  cinematography Lab, editing Lab, Master Classes on screenplay writing, film direction and editing, a talk series by Aribam Syam Sharma on acting on films, sound & music direction of films and on film direction. Another project incubation and mentorship Lab called the documentor Imphal was also organized in which 8 documentary projects were incubated and cash awards worth Rs. 8 lakhs doled out to the filmmakers who submitted these projects. The screenlab is  being organized to encourage making Manipuri films for global audience. 
++++++++
MSFDS SCREENLAB
A 6-month Workshop on fiction feature film script development and incubation
by industry experts and acclaimed filmmakers
Preliminary submission: 15 October 2022
i)   Logline | 40 words
ii)  Synopsis | 400 words max.
iii) Brief Narrative Outline | 2500 words max.
iv) Story Intent & Motivation | 500 words max.
In-person interaction with acclaimed screenplay writer: 1-6 November 2022
Takeaways:
1) Screenplay – Concept to Screen
2) Area specific guidance and input for writing a screenplay
3) Story: Three-act structure and beyond
4) Scenes – building blocs
5) Dramaturgy and Narrative thread
5) Developing characters
6) Effectively using screenwriting techniques to guide dialogue and action.
7) Writing Logline, Synopsis & Treatment
Second submission: 15 January 2023
Logline: 40 words
Revised Synopsis |400 words max.
Revised Narrative Outline |1000 words max.
Revised Story Intent & Motivation |500 words max.
Treatment| 2000 words Max.
Draft Screenplay
Online mentoring with acclaimed screenplay writer: 1-15 Feb 2022
Final submission: 15 March January 2023
i) Logline 40 words
ii) Final Synopsis |400 words max.
iii) Final Narrative Outline |1000 words max.
iv) Final Story Intent & Motivation |500 words max.
v) Final Treatment| 2000 words Max.
vi) Final Screenplay
The Pitch: 31 March 2023
Grants | Cash Awards | Commitment for Production